To top it off, Port Chatham even has its own Bigfoot stories. Click here to read more on this subject.
August 13, 2005 - Day 1
The plan was to stop off at Magnet Rock and pick up a dinner fish. We arrived and the tide rips were kicking along with the winds. I dropped a line and ended up hanging the bottom. I lost all my bottom gear trying to pull it off. The waves were steep and the bow scooped into a wave. The bow slowly cleared and we decided to give it up and continue south. The waves improved as we left Magnet Rock. We hugged the shore, past Point Adams, previously the furthest south we had ever been, Elizabeth Island came into view, we continued past Claim Point and into Port Chatham.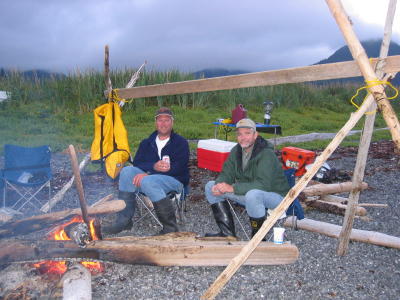 It was time to find a campsite. The prime protected area had a sailboat sitting in it; we didn't want to set a camp right in front of them. We checked out the point of a gravel spit, it didn't feel homey. We headed over toward a cabin we saw on a gravel beach; it was long abandoned with a heaved floor and some kind of stinky animal crap on the floor, the windows and doors were busted and missing. People had signed their names with spray paint inside the cabin. Someone had written "Horny Charlie f***ed Big Foot in this cabin", helping to keep the Bigfoot rumors I had read about alive. Bear trails ran all around the cabin, so we decided to leave and went to the cannery ruin beach. The cannery wreckage, with partially buried heat exchangers sticking out of the beach, reminded me of "Planet of the Apes" movie where they find the Statue of Liberty on the beach. Once again, it didn't feel right. We left there and made our home on the shore of the gravel spit. Not much in the way of bear sign there. We settled into camp. The ride out had been a little rougher than forecast. We had picked up lots of spray and water on the way out. A couple of the sleeping bags had gotten wet. The beach was absolutely covered in drift wood and soon we had a roaring fire. I then built a drying rack and in no time everything was dried out.